On the last day of June, something awful happened. MailerLite broke.
Let me explain.
I use MailerLite to send out my author newsletter at the end of each month, but due to an infrastructure upgrade – "the most complex project in our history" – that has proved impossible.

Fingers crossed everything will be fine and dandy in time for my July newsletter to go out.
So in the meantime, I thought I would share my June newsletter with you here on my blog.
Kind words, a catch-up and a new book recommendation

Summer can't make up its mind
One minute it's too hot to do much other than laze around with a hefty supply of ice lollies, the next the rain is so heavy that you can hear it on the roof and the patio.
I refuse to give in to the inconsistency of the British weather though. My summer wardrobe is staying out, even if sandals are no good for dealing with puddles and my knees are a tad chilly.
---
This time last year, I posted a blog about what was going on in my life.
So I thought I'd repeat that this June and tell you what's happening in the Life of Fi. You can read the full blog post here.
---
Guest blog posts in June
I'm lucky to be part of a wonderful community of writers and two more of them were kind enough to let me guest post on their blogs this month.
The first post was What to expect when you're published by an independent publisher for Melissa Hawkes. A couple of days later, I was featured as Writer of the Week by Mrs Average Evaluates.
---
Book Recommendation – Love is Deadly by Gene Kendall
Gene Kendall is a fellow Burning Chair author and I had the pleasure to beta read his novel, Love is Deadly.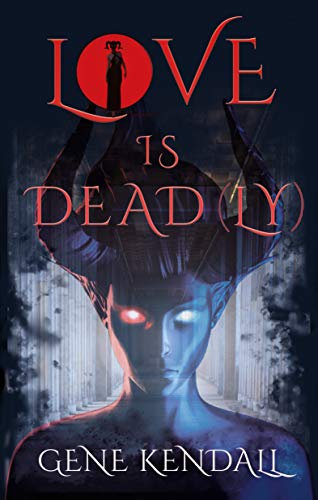 Brad has a big problem.
Not his crippling credit card debt.
Not his ex-wife, and current business partner, who still blames him for the messy break-up of their marriage.
Not his lovable, but spiky, personality that keeps him alive, but alone.
No, Brad's big issue is that he sees dead people. And those dead people have started to fight back.
Brad is a paranormal investigator who uses his powers to shepherd the lost souls of the newly-departed to the light on the other side. In return for a fee. Naturally.
But when a case goes badly wrong, Brad finds himself the prisoner of those he'd usually be hunting. Can he use his unique talents to save not only his own skin, but all of humanity?
You can pre-order Love is Deadly here.
---
Work in Progress
I'm at that exciting stage in writing Book 2 of the Haven Chronicles where the first draft is almost finished.
I have a small number of chapters to write which will include a confrontation at sea and an escape for some of the characters. Within the next few weeks, I'll be sending it off to Burning Chair. Fingers crossed they like it as much as Haven Wakes.
---
Kind Words
Or what readers have been saying about Haven Wakes.
I've had some brilliant book reviews over the last few weeks.
From Beccy11 on Amazon:
This is the first book in a new sci fi series and not only did I absolutely love it, so did my 15 year old. The main character Steve is very engaging and the story is well written. My son likened it to a robotic Harry Potter – make of that what you will! A brilliant read – thank you.
From Sue Wallace on Goodreads:
I really enjoyed this book. Great story and some good characters. Looking forward to the next book.
Read all my Amazon UK reviews here and Goodreads reviews here.
---
Connect with me on social media
You can keep up with all my news and daily goings-on by connecting with me on social media. You might even see the occasional photo of my dog, Bailey.
Of course, you can always find my website here.
Talk to you in July. Stay safe.
Fi Phillips – Fantasy Writer