It's December and that can only mean one thing – author interviews and plenty of them. Well, actually three of them, starting today with fellow Burning Chair author Andrew Neil MacLeod. Andrew is a writer of dark, gothic, historical tales.
His first novel, The Fall of the House of Thomas Weir, is today's book recommendation on my social media channels (window no. 7).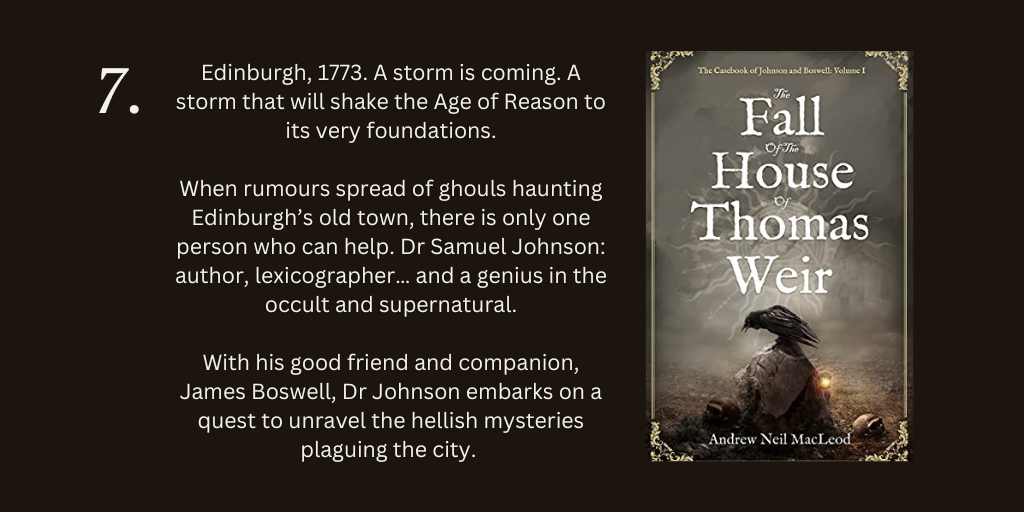 His second novel, The Stone of Destiny, was published on Halloween this year.
My interview with Andrew
I thoroughly enjoyed reading your first novel, The Fall of the House of Thomas Weir, with its paranormal slant on historical Edinburgh. Once I get my Christmas money, I'll be treating myself to the follow up novel. Without giving too much away, what can I expect when I get my hands on a copy of The Stone of Destiny? 
Thank you! In the second novel the canvas broadens, and the two friends embark on their long-anticipated tour of the Scottish Highlands in search of the titular stone. Concocting a cover story that they're touring around Scotland's Neolithic sites, they head for Scone, the first stop in a perilous quest to uncover the truth. Of course, they are not the only ones looking, and soon find themselves shadowed by a mysterious religious sect known as the Culdee. It quickly becomes apparent to our heroes that they've left behind the cosy certainties of their old lives and entered a realm where dark magic, perverted science and sheer terror lurk around every corner.
That sounds right up my alley – I can't wait. How did it feel to revisit the characters of Johnson and Boswell?
In one sense it's like slipping into an old, familiar pair of slippers. But I can't get lazy. I wanted to avoid doing a straight homage or pastiche of Holmes and Watson. Ostensibly the parallels are all there: Johnson, like Holmes, is a polymath, and James Boswell is his best friend and biographer. But the real Johnson and Boswell were considerable figures in their own right, and I wanted to do that justice. I also wanted to give them each a character arc, rather than presenting a series of adventures to be read in any order. The biggest challenge was to make their dialogue convincing. Both men were highly erudite and considerable wits, but I didn't want to make them sound stuffy or elitist.
That's two books down. Can we expect more from Johnson and Boswell?
I'm already well into their third adventure, in which the cast of characters from books one and two converge in Johnson's spiritual home of London for the denouement. We also meet Johnson's deadliest nemesis yet, the mysterious Doctor Cagliostro and his Cabinet of Curiosities. I can even give you a bit of an exclusive, Fi. The third and final part of the trilogy will be called (drum roll…) The Casebook of Johnson and Boswell Vol. III: The Curse of Scotland.
What have been your favourite reads in 2022?
Honestly? Between the day job, doing edits for volume II, and the mentally corroding effects of the internet, I've hardly had any time for reading. I have a TBR list as long as my arm, including many fellow indy authors I look forward to reading as soon as I get a moment. When I get some free time this Christmas I also hope to tick some books off my bucket list, including Ursula Le Guin's Earthsea cycle, and Scottish writer George MacDonald, a pioneer of the fantasy genre who inspired writers such as J.R.R. Tolkien and CS Lewis. I've already read some of their shorter stories, and look forward to the main course.
What does the festive season look like for you and yours?
We're a pretty small family unit – just my wife Amber and myself, and a little dog called Alex. We're big kids at heart, and had our tree up early in November. I'm just looking forward to some down time. We live in the UAE and the weather is perfect this time of year, so I doubt we'll be traveling back to Scotland any time soon. I'm looking forward to long walks with the dog, some home-cooking, sipping mulled wine on our balcony, and listening to Rod Stewart's Christmas album in our matching sweaters (okay the last part is a bit of an exaggeration, but not much).
Sounds like a perfect Christmas to me. Thanks, Andrew.
*
If you'd like to find out more about Andrew and his novels, here are all the links: