The magic returns.
When Hartley Keg and Blessing go missing, Steve Haven, the young heir to the Haven Robotics Corporation, is once again plunged back into the chaos of the hidden world of the magicals.
Teaming up with the darkling, he finds himself on the run from the Council and their enforcers, the Hidden, as he seeks to keep safe those he holds most dear.
Things are complicated further when a new player emerges: the Parity, who are far too keen in the Haven Corporation and the magical device which nearly led to its destruction.
What follows is a race not only against time but through a series of locations, each more fantastical and dangerous than the last, as Steve and his friends try to keep one step ahead of their pursuers.
Magic Bound is the second adventure in the Haven Chronicles, following on from Haven Wakes, a unique blend of fantasy and sci-fi which has been described by readers as "shades of Artemis Fowl, hints of Harry Potter… and Skulduggery Pleasant".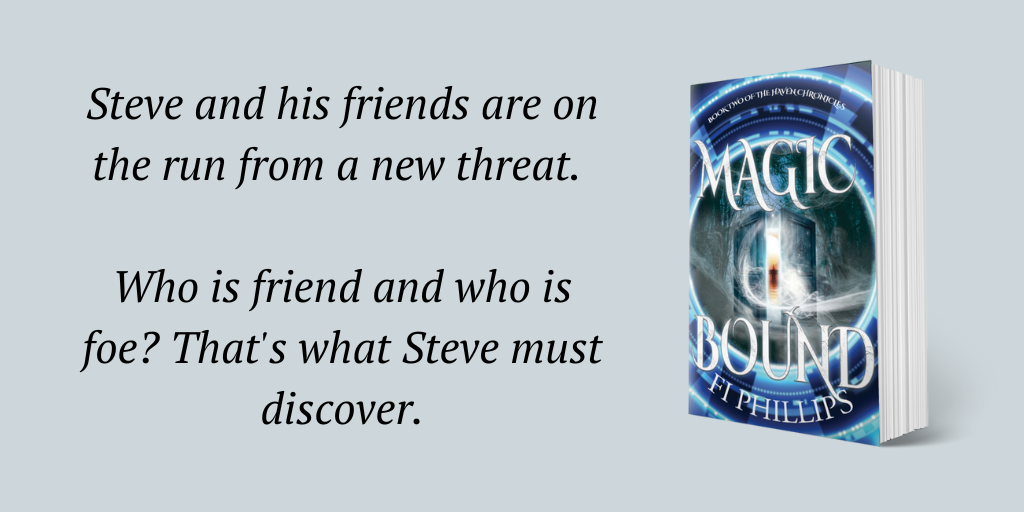 Magic Bound was published by Burning Chair on 2nd August 2022.
Available in both e-book and paperback, you can buy Magic Bound on Amazon and in all your favourite book stores.
What readers are saying about Magic Bound
These books hang around in my head. I opened book 2 and the characters and the world popped out like it had been 5 minutes rather than 3 years. The author's skill at dealing with this fantastical jigsaw makes excellent reading. – Lily Lawson
Such a pleasant change to find that the follow-up outperforms the original on several levels. Haven Wakes was outstandingly brilliant, no doubt about it. But there is always room for improvement, somewhere. Magic Bound is an action-packed roller-coaster of a ride from its beginning to its momentous conclusion. And what a closing finale, to this novel at least: No spoilers, but be prepared for something quite spell-binding. – John Derek
Fi Phillips has done it again! Another easy, entertaining read. The second book has all the familiar characters and many more.  – Peter
The wonderful sequel to Haven Wakes takes us once more into the magical, futuristic world of Steve Haven. This book takes us on a much more action-orientated adventure than the first novel (not that the original lacked this element) and throws Steve further out of the world of the 'workadays' and into the magical realm he has, to an extent, become used to after his previous outing. – Richard Ayre
The story flows in such a swift manner that you find yourself reaching the end before you are ready. And the story ends with a feeling of "Oh, nooooo …." That said, I already cannot wait for the next book in the series. This is a wonderfully imaginative story that is a great read for our youth! Loved it! – Autumn Danner