December is flying by. It's the second week (only 18 sleeps until the big day) and also the second of this month's author interviews. Today it's the turn of historical ghost story writer, Patricia Ayling.
Hi Patricia. Lovely to see you today. Why don't you introduce yourself to the readers before we get started?
I am a latecomer to writing, more accurately, being a published author. I have always found writing enjoyable, whether that be letters or essays from school times to short stories and factual stuff in a few textbooks I was commissioned to write when teaching. I get lost when writing and it's a good feeling.
It was only when I requested a professional edit of my near complete novel that I felt the metaphorical slap. My manuscript was unrecognisable. Red pen underlined words and sentences, or simply slashed straight through them. 'Don't be disheartened' the feedback commenced. I was. I slept and decided to battle on: and learned so much more about writing as a craft.
Those edits always are a knife to the heart, aren't they? Tell us about your latest book. What's it called and what was the inspiration behind it?
The Curse of Becton Manor is my first novel. I love the Tudor period but I also love an element of the supernatural. When I was small, we visited my grandparents on their farm in Wiltshire. The house had no electricity, not uncommon in the 1950s. There was a tale of my grandmother seeing pokers stabbing the embers of a fire with no person holding them. Hauntings are fascinating but the evidence for the existence of ghosts remains elusive. My story combined both of my interests by writing about a house that began its life in 1593 and was derelict in 1957 but due to be renovated. Then by presenting the traumas of two very different families I was able to weave in a paranormal edge.
My recent project is a sequel following the evil protagonist in 1598. I then hope to write a third book concentrating on the twentieth century protagonist. So still historical and with the supernatural in mind but I hope to write using a deeper emotional style and I love a psychological twist. So we shall see. My characters take me on a journey not the other way round.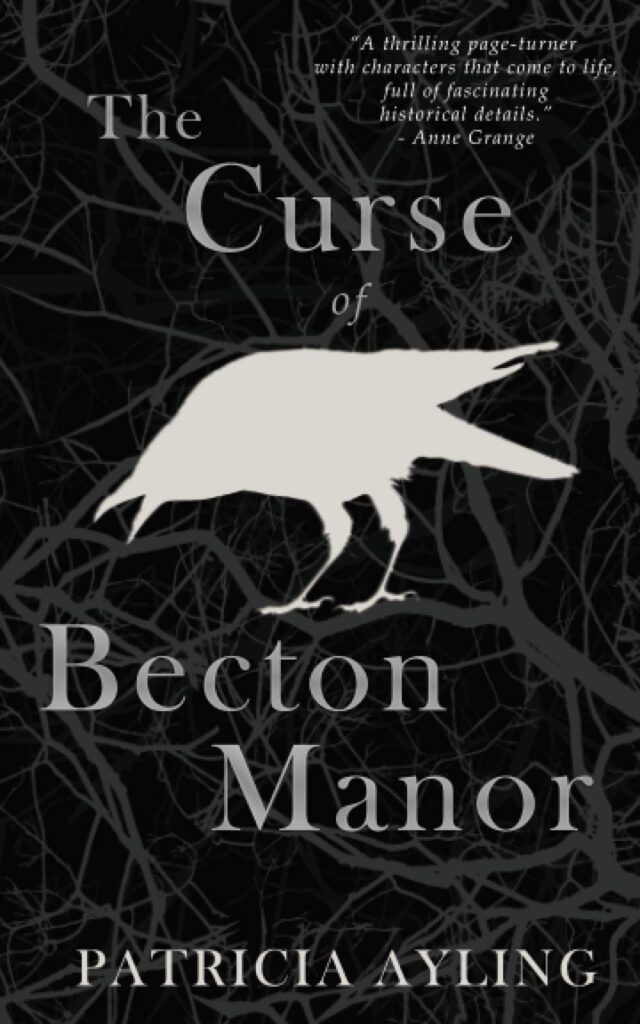 Speaking of inspiration, what inspires your writing?
What inspires me? Sometimes just reading the newspaper or magazines reveals the true feelings of people and their experiences. At other times, just listening to conversations. Reading and researching periods can also illuminate lives and stir your emotions and your imagination.
Here's the festive question: If you could have Christmas Dinner with any fictional character, who would it be?
Oh – who would I have Christmas dinner with? I thought long and hard about this one. I think I wouldn't down many forkfuls of food if I sat across from Sherlock Holmes. His powers of observation would intrigue me. I admire successful crime writers and wish I too could pen a psychological thriller.
Finally, what bookish plans do you have for 2022?
My plans for 2022 are writing my two remaining books, start a saga and read a variety of genre.
Thanks for talking to me, Patricia. I'll keep an eye out for your new books.
If you'd like to find out more about Patricia and her writing, here are all the useful links you might need:
I read The Curse of Becton Manor earlier in the year, enjoyed it immensely, and left this 5* review:
The Curse of Becton Manor
"The Curse of Becton Manor packs a double historical whammy with its two period settings of the 1950s and the 1590s.
The dream of life in an Elizabethan country manor house soon turns into a mixed blessing as Tom and his friend George happen on the ghostly mystery of Becton Manor.
I loved the interplay between the two time periods and the level of historical research that made both timelines so believable.
Ghosts. Intrigue. Adventure. What a brilliant mixture."